I know what you might be thinking, bran muffins? Um, no thanks. Well, these are really worth trying even if you're not a bran fan. They are so rich and tasty, and they will fill your belly way more than any sweet, processed, mirage of a muffin ever will.  The only sweetener is a small amount of maple syrup, a dash of honey, and the raisins. I love the carrot-zucchini-raisin mixture so much I haven't branched out, but the base is flexible and would be well suited to anything you might like to muffin-ize.
Ingredients, makes 12 heaping muffins
1 1/3

cups wheat bran

1 1/3

cups oat bran

1 1/3

cups whole wheat flour

2

teaspoons baking soda

1

teaspoon baking powder

1 1/2

teaspoons cinnamon

1/2

teaspoon salt

2

large eggs

2/3

cup milk 

2/3

cup yogurt 

1/3

cup avocado oil

1/3

cup maple syrup

splash of honey

1

teaspoon pure vanilla extract

1

cup packed finely shredded zucchini (1 medium zucchini)

1

cup packed finely shredded carrots (1-2 medium carrots)

1

cup raisins
I like to prepare the dry ingredients, then the wet ingredients, then the filler ingredients, then mix them all together. But first, pre-heat your oven to 375 degrees.
Combine your dry ingredients (wheat bran, oat bran, whole wheat flour, baking soda, baking powder, cinnamon, and salt) into a bowl and gently mix to combine. If you're like me, you might need to temper your mixing so you don't send your dry ingredients flying outside the bowl.
Next, combine your wet ingredients into a bowl (eggs, milk, yogurt, avocado oil, maple syrup, spash of honey, and vanilla). Use a whisk to combine and simultaneously beat the eggs. A few notes.
Milk: I use 2% but you can use whatever you happen to have. Muffins made with skim milk might come out less rich than muffins made with a higher fat content milk, but do you need to go out and buy a whole other container of milk? Probably not.
Yogurt: I have used full fat greek yogurt, low fat european style yogurt, and low fat regular yogurt. I've even used vanilla flavored yogurt in a pinch. They all work but my favorite was the low fat european style. It could have been because it was Strauss and they are just the best, or it could have been that the more liquidy nature of the yogurt made the muffins more moist. I don't know. I do know that you'll be fine with whatever yogurt you use.
Oil: I use avocado oil because it's an oil I have found that is very versatile for cooking and baking, does not have an avocado taste in foods (but that wouldn't really be a bad thing), and seems to have bypassed much of the controversy around other oils and the 'are they good for you / are they the worst thing ever for you' discussion. If you use and like canola, or sunflower, or butter, you probably could use it in this recipe. I would however avoid olive oil because that will bring a unique flavor that won't match well with these muffins.
Then lastly prepare your carrots, zucchini, and raisins. I grate a medium zucchini and 1-2 medium carrots to get finely shredded filling.
With all your ingredients in place, it's time to combine them. I like to fold my carrots, zucchini, and raisins into the wet ingredients to get them well mixed.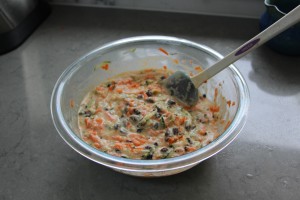 Then I pour the dry ingredients into to the wet ingredients in batches, folding them together with a rubber spatula. Doing it in batches makes it easier to get an even mix, and it's only the very last batch that might be tough to do.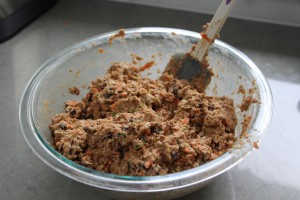 Now you are ready to fill your muffin cups. I use an awesome silicone muffin tin that rarely requires any greasing and the muffins pop out super easily when cooked. Regular muffin tins will work fine too, just grease them with butter or a little of the oil you used. Scoop your muffin mixture into your muffin cups. Be generous and heap your batter into the cups.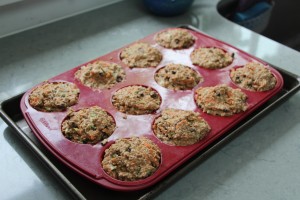 If using a silicone muffin tin, place it on a baking sheet to make it easier to grab (the silicone is wobbly), and place your tin in the oven. Cook for 30 minutes or until a knife comes out clean. Let rest in the tin for 5-10 minutes, then have them cool on a cooling rack. Eat one immediately with a little butter.
I find the muffins last 2-3 days in an airtight container on my counter. I haven't yet been able to freeze any (they have been eaten too quickly) but you could freeze some as well and reheat in the toaster when you are ready to eat.
Adapted from Farmgirl Fare