This salad is a sleeper hit. In fact cabbage has been a sleeper hit in our household. I first picked up cabbage about a year ago when I noticed it at one of my favorite farmers market stands. It was something I had overlooked for years, thinking it boring and tasteless. But for some reason on that fateful day I looked past my preconceived cabbage notions and decided to give it a try. I'm glad I did. I've since tried a variety of cabbages, including green, red, napa, and (my current personal favorite) savoy. I have found cabbage to be really versatile – I've used it as a pasta substitute, steamed it with chickpeas and onions, and on one unassuming day I turned it into the best salad I think I have ever made with my own two hands.
Recently, I have started seeing the most amazing savoy cabbage that is so picture perfect it could have been the inspiration for the Cabbage Patch Kids of my youth. I mean look at this – it doesn't seem real!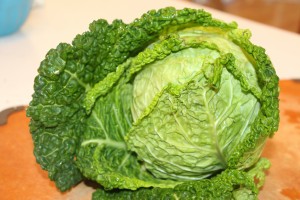 Back to that unassuming day. As the hunger pangs started, I realized I had both kale and cabbage and thought, these might go together. Both crunchy and crisp, the textures work well together. And while kale has a unique taste, cabbage is a little more subtle and provides a nice balance to kale's rawness. The two together make a delightful pairing where either one by themselves would be overwhelming. With the kale and cabbage as the base, I dug deep into my salad brain and it came to me – sliced almonds and cheese, with a lemony dressing. I could almost taste how well it was all going to fit together before having assembled a thing.
And it did not disappoint. I sliced up a handful of almonds and used my favorite Parmigiano-Reggiano cheese* – a cheese that even in small quantities provides a salty, earthy goodness to almost any dish. Of course if you want this salad to be vegan, you can omit this cheese or use a vegan alternative. And I made a new dressing with olive oil, lemon juice, nutritional yeast, and Bragg's liquid amino acids. It was a hit. Lots of great crunch from the kale, cabbage, and almonds, different kinds of nuttiness, a refreshing citrus flavor, and hints of cheese in every other bite. This salad has a lot of satisfying umami flavors, but it's also light and refreshing because of the raw veggies and lemon.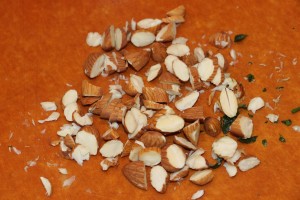 A few notes before you get confused and concerned seeing one or two unfamiliar ingredients: this salad can absolutely be made without nutritional yeast or Bragg's. But these ingredients are probably more accessible than you think, even if you haven't come across them before. Nutritional yeast is a deactivated yeast that comes in yellow flakes or powder and has a nutty (some say cheesy) flavor. I get it in the bulk section of my local grocery store but it also comes packaged. And I've mentioned Bragg's before here but essentially it is a soy alternative seasoning that adds a soft, salty flavor. This too I get at my local grocery store, but soy sauce would probably work in its place as well. I have heard that both of these ingredients are becoming more common even in mainstream grocery stores.
I've since played around with this salad – adding cava oranges or sliced red onions – but nothing has topped the delicious simplicity of this minimalist version. It's something my whole family enjoys, and I hope you and yours will too. Give it a try, and let me know what you think!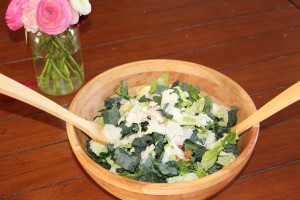 *this cheese – this is the reason I probably could never go full vegan. I get it at Costco (things don't need to be fancy to be good) and it is delicious. Like makes every single thing we put it on better. Even in really small amounts it makes a big difference. Many of the dishes I make are vegan – except for this cheese. I can't give up this cheese.
Green Goodness Salad
1 bunch of kale (I used Lacinato or Dinosaur kale)
1/2 a head of savoy cabbage
10-15 almonds, roughly sliced
1/2 oz shaved Parmigiano-Reggiano cheese
Wash and dry the kale. Cut out and remove the center vein and cut the kale into bite-sized pieces, about two inches long. Rinse the cabbage and cut it in half through the core. Set one half aside to use another time. Cut the remaining half in half one more time so you have two quarters. De-core the cabbage by cutting the core out an angle at the bottom of each quarter. Then slice the remaining cabbage lengthwise into 1 inch pieces. Depending on how wide your quarters are, you may want to cut those pieces in half down the middle so they are a comfortable bite-size. Place your kale and cabbage pieces in your salad bowl and gently toss.
If you have whole almonds, slice them carefully with a sharp knife and add them to your bowl. Shave cheese, if using, and add to your bowl as well.
Green Goodness Dressing
2 tbs olive oil
2 tbs fresh lemon juice
1 tsp nutritional yeast
1/2 tsp Bragg's liquid amino acids
Combine all ingredients into a small jar with a tight lid (like a jam jar) and shake it up until the ingredients combine. Pour over your salad in batches, toss, and enjoy. That's it!